JMU passenger liners and ferries satisfy high speed and other customer needs, and are actively used in Japan and overseas.
JMU has constructed many large-scale, high speed ferries that are used in regular service in Japan, and has also constructed luxury cruise liners. We will continue to develop next-generation car ferries with excellent fuel economy in response to customer demand.
---
Newly developed Large-scale car ferry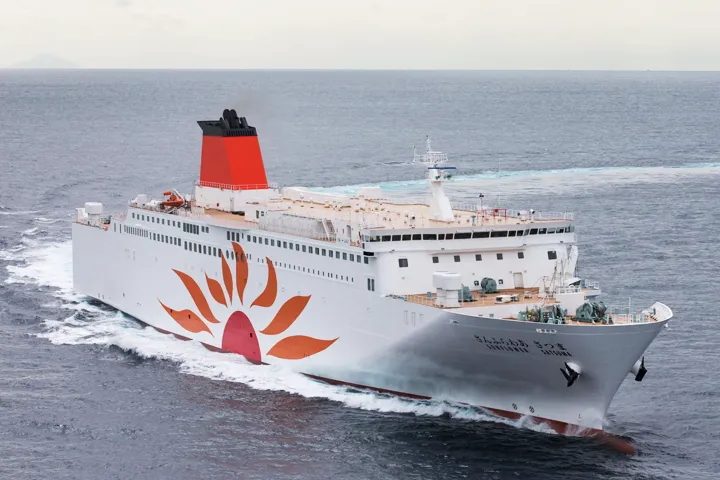 This large scale car ferry has excellent fuel efficiency due to the optimum hull form, contra-rotating propeller (CRP) and our GHG reduction technology, and also achieves both voyage fuel efficiency and port maneuvering performance with a hybrid propulsion system.This ferry is "friendly to both human and environment" with comfortable living areas.
*Winner of the 2018 ship of the year-Large passenger ship sector-
Gross tonnage: 13,700 (approx.)
Principal dimensions: length 192m x beam 27m
---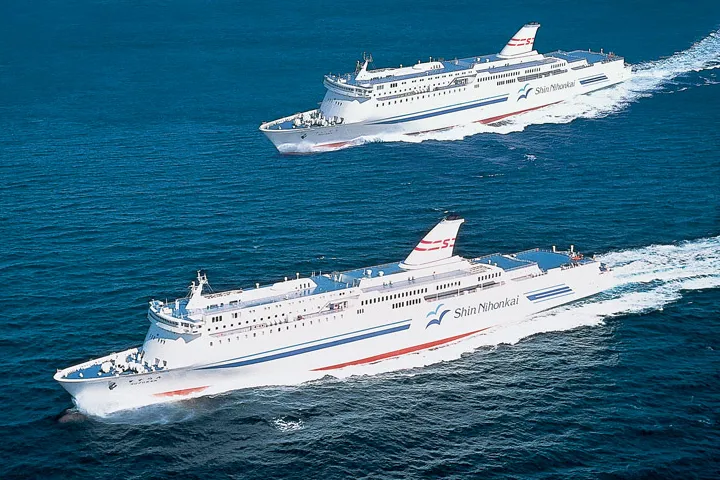 Among monohull type ferries, the "Suzuran" and "Suisen" are Japan's fastest large-scale, long-distance ferries. By greatly shortening transportation time, the development of high speed ferries has greatly affected maritime logistics between Japan's western Kansai region and the northern island of Hokkaido.
*Winner of the 1996 Ship of the Year Award
Gross tonnage: 17,300 (approx.)
Principal dimensions: length approx.200m x beam 25.0m
---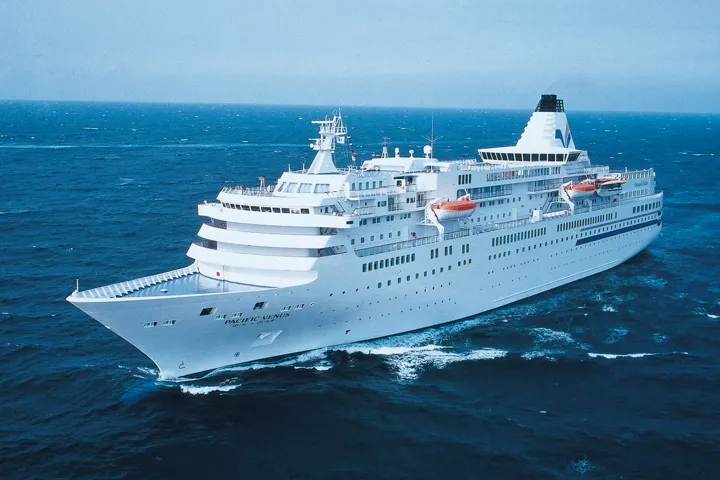 This is the cruise ship "Pacific Venus," and has a passenger capacity of 720 persons. This luxury cruise ships actively plies the world's oceans, for example, making a round-the-world cruise in typical years.
Gross tonnage: 26,500 (approx.)
Principal dimensions: length approx.183.4m x beam 25m
---
SSTH type super-high speed cruise ship/car ferry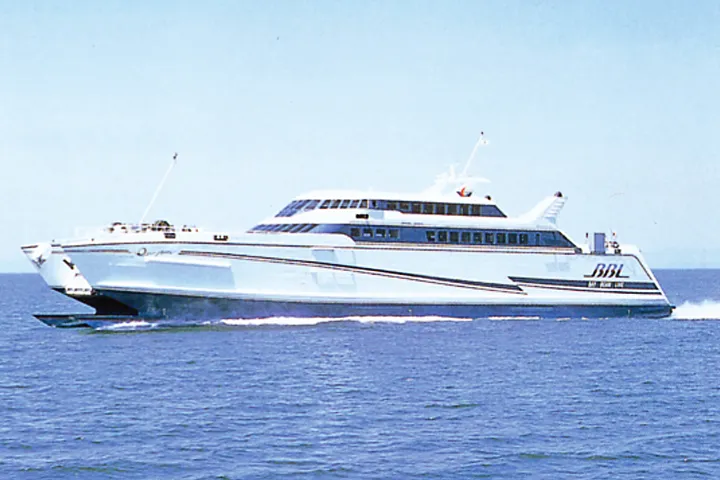 The Super Slender Twin Hull (SSTH), which was developed independently by JMU, realizes high speed performance, fuel economy, and excellent passenger comfort.
*The No. 1 SSTH type ship, "Trident," won the 1992 Ship of the Year Award.
Gross tonnage: 1,687 (approx.)
Principal dimensions: length approx.72.1m x beam 12.9
---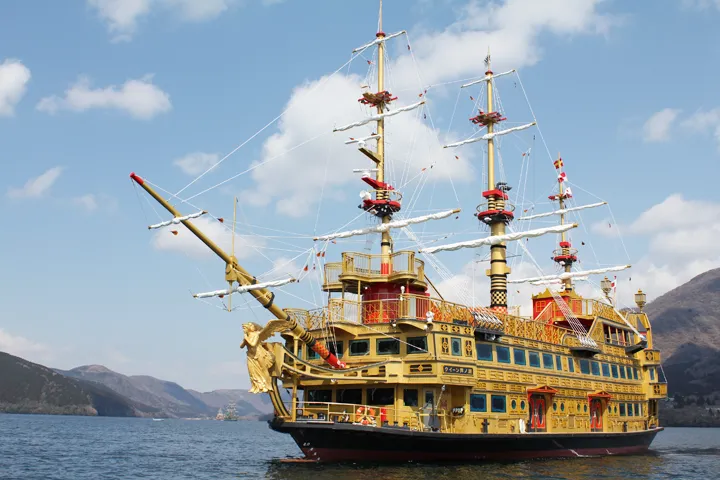 This is a sailing vessel-type passenger ship on Lake Ashi at Hakone. In addition to the design, JMU emphasized the comfort of a passenger ship and realized low noise, low vibration, and barrier-free. Because it was not possible to build the entire ship at lake side, blocks were first constructed at JMU's Yokohama District Tsurumi Works. The completed blocks were then transported to a lake side shop, and hull joining and outfitting were performed at the site. The vessel was then launched, and was delivered to the customer after trial operation on the lake.
Gross tonnage: 330t (approx.)
Principal dimensions: length 35.0m x beam 10.0m x depth 2.95m
---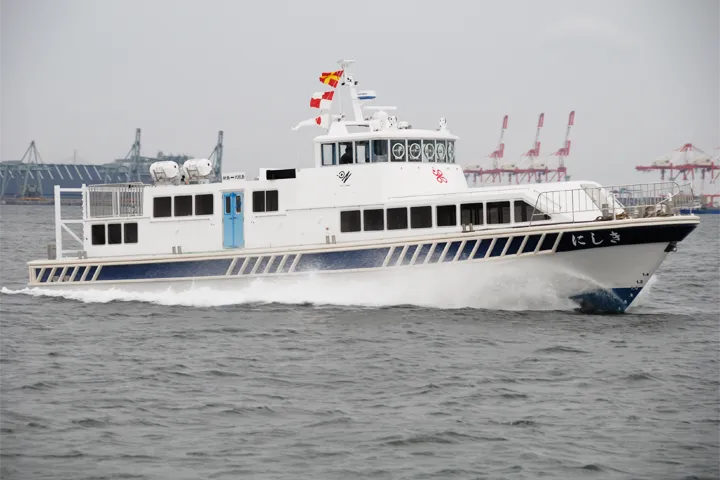 Speed and safety are two fundamental performance requirements in passenger ships, but stability is also indispensable when carrying passengers. JMU is responding to diverse needs with advanced technologies and deep insight into rivers and seas. The "Nishiki," which complies with the Barrier-Free Transportation Act, has won high marks from users as a ferryboat operating between Niijima and Shikinejima.
*Winner of the 2009 Ship of the Year Divisional Award
Gross tonnage: 69t (approx.)
Principal dimensions: length 23.82m x beam 5.54m x depth 1.83m
---
Icebreaking sightseeing ship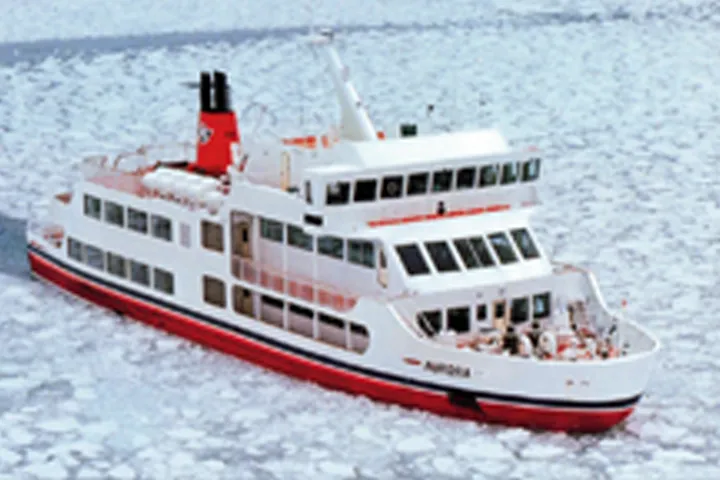 This is the only icebreaking type sightseeing ship in Japan.
Gross tonnage: 491t (approx.)
Principal dimensions: length 45.0m x beam 10.0m x depth 4.8m
---